get to know time to organize…
sara pedersen, owner & organizer extraordinaire
Since 2000, Sara Pedersen has offered hands-on organizing assistance for countless Twin Cities residents. She helps them organize, simplify, and discover time to do the things they love. She also coaches new and prospective professional organizers. In addition, her creative side shines when she transform a space with her one-day decorating services.
Sara has a B.A. in journalism from the University of Minnesota. She worked for Carlson Companies and the University of Minnesota in print production, project management, and marketing and communications before founding Time to Organize.
She lives in Shoreview, Minnesota, with her husband and two teenage kids. She also makes time to snuggle her tabby cat, Mulligan, and Lhasa-Poo, Wilson. When she's not working with clients, she enjoys finding new and creative ways to organize her home! She also loves to dig in the garden, take evening walks, eat chocolate, and explore the North Shore of Minnesota.
She brings a unique mixture of compassion, humor, creativity, and common-sense to each client session. She focuses on not only creating useful spaces, but transferring organizing skills to her clients so they can maintain everything after she leaves. And because she also loves to also create beautiful spaces, she adds a little "oh la la" where ever she can. For those not needing organizing help but just some room makeover ideas, her one-day decorating services are the perfect way to showcase her creativity and flair for design.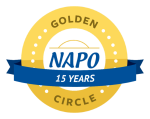 Sara is an active member of the National Association of Productivity & Organizing Professionals (NAPO). She has held the positions of Communications & Technology Director, Secretary, Newsletter Editor, Public Relations Director, and Electronic Communications Coordinator for NAPO Minnesota. She is currently an Ambassador for NAPO at a national level. She is also a member of the elite Golden Circle of NAPO, a distinguished group of professional organizers who have been in the industry five or more years.
amazing team members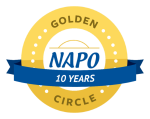 Dawnee Dorholt has been a professional organizer for more than a dozen years and is a NAPO (National Association of Productivity & Organizing Professionals) Golden Circle member. She joined the Time to Organize team in 2013 and enjoys helping clients with home decluttering and organizing, as well as assisting with unpacking and organizing after a move.
Dawnee's background in art and architecture allows her to offer expert guidance with furniture, art, and accessories placement. She has a keen eye for design and detail, adding eye-pleasing finishing touches to each space she organizes.
Dawnee's clients describe her as compassionate, empathetic, adaptable, and trustworthy. She is known to be a good listener and prioritizer who motivates her clients to reach their organizing goals. We know that you will truly enjoy working with her.
---
how To get started
For more information, or to begin your journey to an organized life, please contact us today! We offer organizing services in the Twin Cities area of Minnesota (Minneapolis, St Paul, and surrounding suburbs). No matter what your budget, time frame, or level of disorganization, we can work with you to create blissfully organized spaces. Call us at (651) 717-1284 or email to schedule your free phone consultation. Or, to learn more about how we can help you, check out our services page!
Just for fun
Are you a visual learner? Do you love beauty and ingenuity? Check out our Pinterest boards, where you'll find cool photos that are full of organizing inspiration!