become a professional organizer
"To do what you love and feel that it matters — how could anything be more fun?"
— Katharine Graham
Considering a career as a professional organizer? US News and World Report cited professional organizing as one of the top 20 hot jobs for the future in the United States. This career offers an opportunity for a home-based business with flexibility, creativity, and personal fulfillment. Each day is unique, and working as a problem-solver can be incredibly rewarding and fun!
here's how we can help you get started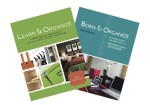 Time to Organize has some fabulous resources to get you started. First off, you'll want to purchase our premier career guide, Born to Organize, which will guide you through the process to become a professional organizer. You can order it by itself or in a bundle of other helpful career-building tools, such as the Essential Client Forms, a must-have for every professional organizer! In addition, our new book, Learn to Organize, will give you step-by-step instructions to organize every space in your clients' homes. This book will be your go-to guide for years to come. We also offer some neat tip sheets, such as a Take-along Toolkit Supplies List and the Perfect Name Planning Guide.

If you'd like to learn more about how to organize specific areas of the home or office, you might also check out our recommended list of must-have organizing books. Need a little confidence-booster to start working with clients? Get started with our Pro Training Lessons to beef up your hands-on organizing skills and confidence in specific areas of the home. This neat program details the step-by-step process to transform any space from a disorganized mess into a beautiful success! You can do it!
Then, consider one of our career coaching options. If you're in the Twin Cities area, we'd love to meet you for an in-person coaching session. If you live anywhere else in the U.S. or Canada, we offer phone coaching by-the-hour or in a value-based Platinum Phone Coaching package. Or if you prefer to learn via your computer, check out our 8-Week Business Jump-Start Email Coaching Program!
here's how we can help you boost your business

When you're just about ready to launch your business (or at any point in your career), check out our neat marketing tools for professional organizers. Our ready-to-send newsletters and postcards will help you stay in touch with your client base. Our marketing how-to guides will show you how to reach more clients for less money. Click here to learn about our handy marketing tools.
Our marketing services can't be beat! We can write and design your website, set up your email newsletter, help you come up with a snappy company name, and so much more. Click here for info about our services.
And be sure to check out our free how-to marketing articles to learn your best marketing bets to effectively promote your business.
If you have a passion for organizing, then don't delay. We are excited to help you learn more and launch your new career as a professional organizer!
don't forget to sign up for our free newsletter
Sign up for our Career Dreams e-newsletter (enter your email address into the box at the left of the page or click here) and you'll receive our FREE Career Quiz & Goal-Setting Planner created especially for prospective professional organizers!