career coaching services
Time to Organize offers a variety of professional organizer coaching and training options to fit your schedule and budget. Choose from a two-hour in-person consult (Twin Cities area), phone coaching (available by-the-session or as a discounted multi-session package), and an 8-week email coaching program.
in-person coaching & consulting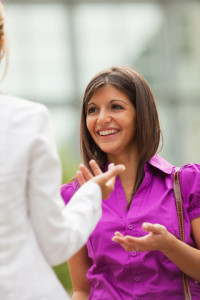 If you'd like to learn how to become a professional organizer, or just want to discover more about this career, Time to Organize can help! We offer one-on-one professional organizer career coaching and training for prospective and new professional organizers. Initial in-person consultations are two hours, located in the Twin Cities area of Minnesota. We can meet at our office in Shoreview, Minnesota, or at a local coffee shop. Please bring all your questions! You'll receive a copy of the Born to Organize career guide, as well as free email follow-up should any questions arise after the meeting.
---
phone coaching & consulting
Have you been struggling to get your business off the ground? Would you like an accountability partner to set goals and keep you on track? Do you have a list of business start-up questions that needs answers? Would you like to walk through some client scenarios? Do you want a friend and mentor in the professional organizing industry? Choose from hourly consultations or money-saving coaching packages, including the Platinum Phone Coaching Package and the Coach Express Program.
---
email coaching & consulting
To guide you on the journey to become a professional organizer, check out our 8-Week Business Jump-Start Email Coaching Program. You'll get eight weeks of email task reminders and tips! No more stalling out… By email, you'll receive all the steps you need to take to get your business up and running in just eight weeks.
---
Click here to read frequently asked questions about becoming a professional organizer.