CAREER COACHING SERVICES
IN-PERSON COACHING & consulting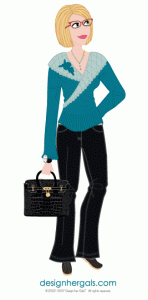 If you'd like to learn how to become a professional organizer, or just want to discover more about this career, Time to Organize® can help! We offer one-on-one professional organizer career coaching and training for prospective and new professional organizers. Initial in-person consultations are two hours (Twin Cities area of Minnesota). Your investment is just $200. Please bring all your questions! You will also receive my fabulous book, "Born to Organize" and other great resources at this session. The consultation will cover topics such as:
A day in the life of a professional organizer
The pros and cons of professional organizing as a career
Training and skills necessary to get started, as well as essentials needed to set up shop
Focusing on a specialty
Salary and time-commitment expectation
Building a business and finding your choice clients
Business insurance and liability issues The importance of your professional image
Personal safety tips
Effective marketing techniques
Small business resources Local and national organizing associations (such as NAPO and NSGCD) and seminars/workshops
Goals needed to get your career on track
You'll receive a certificate of completion, an opportunity to join the Time to Organize referral program, and free e-mail follow-up at no extra charge. Each coaching session is: Individualized for your needs and your current career status Affordable and convenient Fun and educational! To get started, please e-mail Sara to schedule your consultation. Please do not pay until you have a confirmed date and time for your consultation.
You can also opt to add on the Platinum Phone Coaching Program at the end of your in-person session at a discounted rate of $300! (That's a $100 savings!) You'll get four weeks of phone coaching to keep you motivated and moving forward. 
Coaching is also offered via phone or e-mail for your convenience. Keep reading for more details.
---
PLATINUM PHONE COACHING PROGRAM
Have you been struggling to get your business off the ground? Would you like an accountability partner to set goals and keep you on track? Do you have a list of business start-up questions that needs answers? Would you like to walk through some client scenarios? Do you want a friend and mentor in the professional organizing industry? I can provide all of these services through my Platinum Coaching Program!
You'll receive 4 private, weekly 60-minute phone consultations. In addition, you'll get all five of my Client Forms and a copy of my book, "Born to Organize." You'll also receive free e-mail follow-up throughout our coaching relationship. This is more than a $500 value! Available on a "first come, first served" basis: I keep my coaching client load small so that I can give you my full attention. Your success is my priority. Discover your full potential!
You'll receive:
4 private, weekly 60-minute phone consultations ($400 value)
5 Essential Client Forms ($50 value)
Born to Organize and Learn to Organize E-Books ($25 value)
Free e-mail follow-up throughout our coaching relationship (priceless!)
My private, small business resource list (only available to my coaching clients!)
Your investment: $400
---
coach express program
This is a great option for the budget-conscious business owner. You'll be able to bring all your questions via telephone to receive expert advice. In addition, this series of FIVE phone calls allows us to do some goal setting. We'll check in on your progress each call, answer any questions that came up between calls, and help you reach your goals of starting or enhancing your organizing business. This is a $375 value.
Five 45-minute phone sessions: $300
---
HOURLY PHONE COACHING & consulting
Whether you just need one phone call to fire off a list of questions or a series of calls to keep you on track, I can help through one-on-one phone coaching! Invest in your business today. You'll quickly reach your business goals so your business can blossom.
1/2 hour increments: $50
---
EMAIL COACHING & consulting
To guide you on the journey to become a professional organizer, I've developed an 8-Week Business Jump-Start Email Coaching Program. For only $195, you'll get eight weeks of email task reminders and tips! No more stalling out… I'll email you the steps you need to take to get your business up and running in just eight weeks.You'll also receive the PDF version of my TOP SELLING book, "Born to Organize." Also included are my five essential client forms PLUS a 30-minute phone consultation with me, which you can schedule anytime during the 8-week program! You'll also be able to email questions to me throughout the Jump-Start Program, getting individualized support and ideas. Or, opt for the super-affordable $99 Basic Program.
Click here for more details!
8-Week Email Personalized Coaching Program: $195
8-Week Email Basic Coaching Program: $95
---
A WORD FROM SOME OF MY COACHING CLIENTS
Working with Sara helped me focus on the rights things to get my business off the ground. Sara was such a great source of motivation and positive reinforcement for me during our Platinum Phone Coaching sessions. I accomplished more during the few weeks I worked with Sara than I had over the previous two years. Sara asked important questions that helped me fill in some of the blanks on the focus of my organizing business.
— Shannon Hampton, Clearly Organized Solutions, Humble TX
I just wanted to thank you from the bottom of my organized heart for both your manual and telephone coaching session. Of all the research and classes I have done so far, your manual and guidance are the most helpful & complete. I am a fledgling residential organizer near Dallas, Texas. As I take each step to build my new business, ideas from material I've read or heard often pops into my head. I'll stop and try to remember where the original idea came from. Your manual is the first thing I reach for and more often than not, it has the answer I am seeking! No other resource or class has as much in one place as you do! As if it couldn't get better, you turned out to be so easy to talk to, so full of ideas and a person I felt I could immediately respect. I hung up after our coaching session with such excitement! My head was almost spinning with marketing plans based on your suggestions that I know will work! I truly appreciate your time and your encouragement. Our conversation meant the world to me. I am so grateful I found you on the list of recommended reading materials on NAPO's website. It was such a steal given how much I value all that you've taught me! The organizing world is a better place with you in it!
— Jennifer Sanchez, MBA, Organize & Prosper, LLC, Prosper TX
Thank you so much for the great coaching session. It was so helpful and informative. My biggest concerns were put to rest (e.g.  setting a rate, getting familiar with the products). And your ideas were so practical that I walked away feeling invigorated and calm at the same time. Thanks for providing such a helpful service. It's just what I needed!
— Roxanne Seiberlich, Oakdale MN
Click here to read more testimonials about our Professional Organizer Career Coaching and Training!
Click here to read frequently asked questions about becoming a professional organizer.