Marketing Products for professional organizers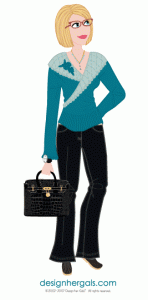 Time to Organize® offers ready-to-use, effective, efficient marketing products for professional organizers and those in related fields, including our "Organize Today" client newsletter, "Stay-in-Touch" client postcards, and Articles on Demand™. We also have amazing ready-to-use business development tools, such as the Essential Client Forms, Girls' Night Out Organizing Workshop Kits, Do-It-Yourself Marketing Plan Kit, and Business-Boosting Marketing Tip Sheets. Spend your time doing what you love — organizing — and leave the marketing to us! To view our marketing products, click here or use the links in the blue bar on the left side of your screen.
And if you're unsure which product(s) would be best for you and your business, please contact me. (That's my cartoon likeness over there on the right side. I'm really knowledgeable and nice, too!) I am happy to give a free phone or e-mail consultation to determine what would be the best fit for your marketing needs and budget. Just call (651) 717-1284 or e-mail by clicking here.
Or, take our Marketing Style Quiz to figure out your best marketing bets!
And don't forget to sign up for my free monthly marketing ezine by typing your email address into the box on the left side of this page. This is where I announce special deals and promotions! I also share specials on my Facebook page.
Download our full-color product guide by clicking here.
---
Free bonus with all orders! Receive my audio podcast: 7 Marketing Myths!
Just click this "add to cart" button here to receive this for free!
---
52 easy e-tips
Each short tip is designed to be sent via email to your opt-in database. Just one sweet little paragraph in length, each tip shares easy-to-implement organizing advice. Easy E-Tips allow you to stay in weekly contact with your clients and prospects by giving them quick and easy tips or tasks to move them on the path to an organized life.
Click here for information about Easy E-Tips.
---
quick-tip client postcards™
This series of 12 organizing postcards is a fun way to reach out to your clients on a monthly basis, plus they are customizable by you! Simply use Microsoft Word or Pages to make them your own. Each postcard includes a "call to action" to invite your client or prospect to contact you for more info or to book an appointment, plus just a few quick tips to pique their interest.
Click here for information about Quick Tip client postcards.
---
Facebook Posts on Demand™
Many of us think about using Facebook to boost our businesses, but we stall out because we don't know what to write about. It can be quite a time commitment to come up with interesting updates every month, let alone every week! But now, thanks to Posts on Demand, you can have a year's worth of Facebook posts right at your fingertips! This unique subscription service lets you showcase your expertise, get the online conversation started, drive traffic back to your website, and educate and entertain your fans.
Click here for information about Posts on Demand™.
---
Sampler Packages
Choose from a variety of Sampler Packages designed especially for professional organizers who want to find their "just right" client communications method. Choose from Become a Marketing Genius Sampler, Marketing Success Sampler, and New Organizer Success Sampler packages.
Click here for information about the Sampler Packages.
---
Girls' Night Out Organizing Workshop Kit™
If you're looking for another income stream besides hands-on organizing, hosting a Girls' Night Out Organizing Workshop may be just the thing to add to your repertoire of services! Everything you need to market, prepare for, and hold Girls' Night Out Organizing Workshops is included in your purchase.
Click here for information about Girls' Night Out Organizing Workshop Kit.
---
Articles on Demand™
Want to create your own newsletter or e-zine but don't have time to write your own articles? It's Articles on Demand™ to the rescue! Browse our vast selection of organizing-themed articles, place your order via credit card, and we'll e-mail you the article. Then, pop the text into your own e-newsletters, handouts, or tip sheets. Add them to your web site in your "tips" section. Or create your own newsletters or postcards. The possibilites are endless. However you choose to use your Articles On Demand™, you'll find it's easy to let your personal style and brand shine with professional marketing materials.
Click here for information about Articles on Demand.
---
Organize Today Client Newsletter™
This fabulous, professional-quality newsletter — titled Organize Today — is tailored to your organizing client base. It's the perfect stay-in-touch method, establishing you as an expert in your field. You provide your database with a wonderful, tip-filled newsletter every issue!
Click here for information about Organize Today client newsletter.
---
Stay-in-Touch Client Postcards™
 Another way to stay in touch with your clients on a regular basis! These tip-filled, 8-1/2 x 5-1/2 color postcards can be sent via e-mail or US mail. You will receive one master PDF to send however you choose, to whomever you choose. There is no limit to how you can use this marketing tool! Save time and money, while providing valuable information to your clients!
Click here for information about Stay-in-Touch client postcards.
---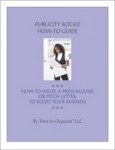 Marketing Tip Sheets
Choose from Facebook for Small Business Owners How-To Guide, Purposeful Website Planning How-To Guide, 50 Bright Ideas to Market Your Small Business Tip Sheet, and Publicity Rocks! How-To Guide, or opt buy the whole series at a discounted price!
Click here for information about these tip sheets or to order now.
---
Essential Client Forms
Choose from our Client Phone Intake Form, Comprehensive Assessment Form, Service Agreement Form, Action Plan Form, and Feedback Survey.
Click here for information about these client forms or to order now.
---
Do-It-Yourself Marketing Plan Kit
This amazing kit includes everything you need to create your own marketing plan. You'll receive an easy-to-follow "do-it-yourself" workbook that you can print out and fill in on your own schedule. The kit includes 10 great tools, including a podcast and 30-minute phone consultation with Sara Pedersen!
Click here for information about this kit or to order now.
---
learn to Organize Book
If you're a professional organizer looking to streamline your hands-on skills, this comprehensive — yet easy-to-read — book will get you there! A simple, six-step process shares the "how-to" of the actual hands-on organizing process. From creating goals and making a plan, to sorting, decluttering and putting everything in just the right place, you'll see that smart, successful organizing is within your reach
Click here for information about this book or to order now.
---
born to organize book
If you're thinking about becoming a professional organizer (or you're just starting out), you'll LOVE our new manual. Its easy-to-read style will answer all your questions about this amazing career, from expectations, to skills needed, to a typical day in the life an organizer.
Click here for information about this book or to order now.
---
Shopping Cart Service
Need a shopping cart for your website? I use and recommend 1shoppingcart powered by Professional Cart Solutions. Click the logo for details! NAPO members get a 10% discount!