Stay-in-Touch jumbo Client Postcards
Another way to stay in touch with your clients on a regular basis!
We know your clients want to get organized! In fact, 83% of people say getting more organized is among their goals. To meet this need, our marketing tools are filled with organizing tips designed to give readers valuable, instantly-usable information. Sending postcards is a great way to highlight national organizing holidays, such as "Clean Out Your Closet Month," Organize Your Files Week," and "Simplify Your Life Week." You'll be amazed at the boost your business enjoys when you stay in touch with your clients and prospects.
Here's what a couple of organizers had to say:
The postcards are a hit! I wanted to provide tips to my mailing list on a monthly basis, but I struggled to put something together for myself. Your postcards' professional look and substantive content impressed me. I sent out the first month's card and received positive feedback almost immediately. Providing clients and potential clients with a quality product like this can only reap positive results. I'm so glad I left it up to you! It made all the difference. Thank you!
— Linda Mosholder, OrganizeThis

I just wanted to tell you that I think your Stay-in-Touch Postcards are great! Your content and the way they're presented is perfect. I would definitely purchase more in the future. Thanks for creating good marketing tools for us organizers.
— Laura Cambridge, Dynamic Organizing 
---
postcard details
These tip-filled, 8-1/2 x 5-1/2 color postcards can be sent via email or US mail. You will receive one master PDF copy via email to send however you choose, to whomever you choose.
You choose the number of copies, mailing schedule, paper stock, and printing process. (They are easily duplicated using a standard or color copier, or your own personal printer.)
There is no limit to how you can use this marketing tool! Use them to promote your business in endless ways. Email the front side directly to your clients, saving time, printing costs, postage, and paper clutter. Or, create your own back side to include your return address and personal message, pop on a one-ounce $.41 stamp, label, and mail!
You can print them one-sided or two. A simple back side is provided, with a cute graphic and headline.
You can even personalize each postcard before printing to include a special promotion, upcoming event, or personal message on the back side. You simply cut and paste your company information into the return address area or just add a return address label. Or, create your own back side entirely in any 8-1/2 x 5-1/2 layout.
Save time and money, while providing valuable information to your clients! Remember, this marketing service is a tax-deductible business expense. Please print out your Pay Pal receipt for your records.
Volume Pricing
Two postcards for $25
Six postcards for $100
Twelve postcards for $175
Both sets (24) postcards for $300
 
We offer two different sets of postcards. One set pertains to specific organizing holidays. You can use these to promote your business each and every month, tying your mailings into these fun national holidays. The other set is called "Everyday Postcards" and they are not related to any specific holiday. Postcard copy is written without any year dates, so they can be used year after year!
 
holiday postcards
January: Get Organized Month/Goal Making
 
February: Archive Your Files Month
 
March: Clutter Awareness Week
 
April: Organize Your Files Week
 
May: Moving Month
 
June: Small Business Week
 
July: Purposeful Parenting Month
 
August: Simplify Your Life Week
 
September: Fight Procrastination Day
 
October: Kitchen and Bath Month
 
November: Buy Nothing Day
 
December: Stress-Free Family Holiday Month
everyday postcards
The Benefits of Getting Organized

Tips for Organized Closets

Setting Up Shop

Identify Clutter with Three Easy Questions

Prevent Identity Theft

Get the Junk Out of the Trunk

Quick Steps to Make Less into More

Make Time for Paper

Photo Crazy

Reduce Unwanted Mail With 5 Simple Steps

Slow Down, Live Deliberately

Be Your Best Time Master
 
Example of Front:
Example of Back: (You add your own return address information.) You would use this side only if mailing through the Postal Service. If emailing, just send the front side only to your clients and write your own message in the body of the email instead.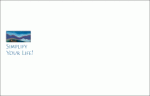 ---
order now!
You may pay using your credit card or Pay Pal by clicking the "Add to Cart " button below.
You will need to write the titles of the postcards you'd like in the "Comments & Special Delivery Instructions" box on the check-out ordering screen.
If you'd like to see a free sample first, just e-mail us here. Please note there are no refunds as this is an electronic product that cannot be physically "returned."
Two postcards: $25
---
Six postcards: $100
---
Entire Set of "Holiday" Postcards (12): $175
---
Entire Set of "Everyday" Postcards (12): $175
---
BOTH sets of Postcards (24): $300
---
POSTCARD LICENSE AGREEMENT SUMMARY:
As part of my subscription, I understand I am agreeing to the following:
I understand that all contents of the Postcards are property of Time to Organize and may not be used without their permission. The Time to Organize copyright statement must remain on the Postcards.
I understand that copies of the Postcards may not be distributed to other professional organizers.
I understand that the Postcards may be distributed to my clients so long as no fee is charged.