organizing Resources
Time to Organize recommends some great organizing resources to motivate, inspire, and educate you on many aspects of organization! Whether you want to find a place to donate your old bike, desire a decrease in junk mail, need a book recommendation to help you get started on an organizing project, or are searching for some quick and easy tips, this is the place to move you forward!
If you have two minutes, you can take the "What's Your Organizing Personality?" quiz. And be sure to check out our great products. From our 10-Minute Tidy-Up Organizing Cards to the Survive and Revive Holiday Guide, you're sure to find something that will make your life easier (or become the perfect gift for someone you love!)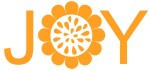 Want to get organized on your own, but with the support of Sara and a great group of soon-to-be-organized people? Check out the JOY Challenge, an online program that helps you organize one room at a time, over a one-month period. Detailed instructions, private Facebook group & Pinterest page, contests, tips, and organized bliss!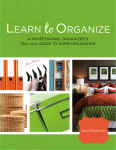 If you want to learn the pros' insider techniques, this comprehensive — yet easy-to-read — organizing book called Learn to Organize will get you there! A simple, six-step process shares the "how-to" of the actual hands-on organizing process. From creating goals and making a plan, to sorting, decluttering and putting everything in just the right place, you'll see that smart, successful organizing is within your reach.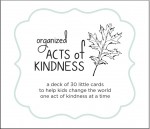 Have you (or the kids in your life) ever wondered how you could make the world a little better? An easy place to start is by practicing simple acts of kindness. To help kids (and the grown-ups in their lives) make random acts of kindness a little more commonplace, Time to Organize has developed a set of 30 Organized Acts of Kindness Cards. Download your free set of cards today!
Simply click the resource links above or on the left to learn more. And, of course, if you'd like a little hands-on organizing assistance, don't hesitate to call 651/717-1284 or email for more info.