Can we make the world a little kinder?
organized Acts of Kindness for Kids
Have you (or the kids in your life) ever wondered how you could make the world a little better? An easy place to start is by practicing simple acts of kindness. These selfless little gestures take little time and little or no money to do, but can create a big impact in the lives of those who benefit from them.
To help kids (and the grown-ups in their lives) make random acts of kindness a little more commonplace, Time to Organize has developed a set of 30 "Organized Acts of Kindness" cards. (OAK for short.) Random acts are fun, but sometimes these things need to be planned out just a bit. So we take the "random" and make it "organized." Our hope is that by planting the seeds of kindness in our little ones, they will want to brighten someone else's day on a regular basis. They learn that the world functions much better when we think of others.
This set of cards teaches kindness in five core areas:
acts of service
kind words
kind actions
abundance sharing

quickie surprises
---
A few examples
open doors for people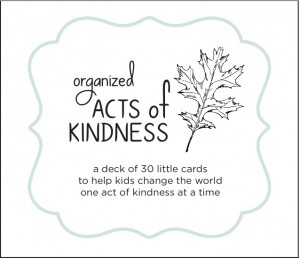 This is especially important to do for senior citizens, but it is always appropriate and appreciated by anyone of any age or gender. Open the door wide, hold it open, and say, "After you!"
share flowers
Know someone who needs a little pick-me-up? Bring a bouquet of flowers (whether you buy them at the supermarket or farmer's market, or pull them from your own garden) to someone who really needs some love.
put $ in a gum ball machine
Even if you only have a quarter, you can make a kid's day by putting it in a gumball or candy machine. The next kid who turns the handle will get a nice surprise!
---
We hope you enjoy the cards. Download them, print out the six pages, cut them apart, and then share them with your favorite kid. Let them pick one OAK to do today, or plan to do one a day or one per week, whatever your schedule and enthusiasm level allows.
Then, please email us at sara@timetoorganize.com and share your stories. Tell us what you've done, the reactions of your kids and the OAK recipients, and any other OAK ideas you might have. Who knows? Maybe your idea will end up in our second edition of cards!
---
individual use: free
These cards are available, free of charge, from Time to Organize. Just click the Add to Cart button, fill out the order form (you won't have to enter any payment info), and you'll receive a link with an automatic download to get your cards. Please note, these cards are provided free of charge for individual use only. If you'd like to provide them to a large group, please see the Non-Individual Use section below.
NON-INDIVIDUAL USE: $1 per pack of cards
If you'd like to print and distribute the cards for groups or clients, please note that there is a $1/each charge for this type of use. (For example, if you plan to print out a dozen packs of cards, please set the quantity for 12 and you'll be charged $12.) This donation goes into our Kindness Fund, so we can provide printed sets to local schools and children's groups upon request. Help us make the world a little kinder!
---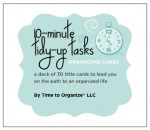 If you like these cards, you might also like our 10-Minute Tidy-Up Tasks Organizing Cards. Click here to learn more or to have a pack shipped to your home!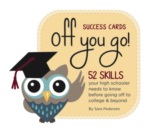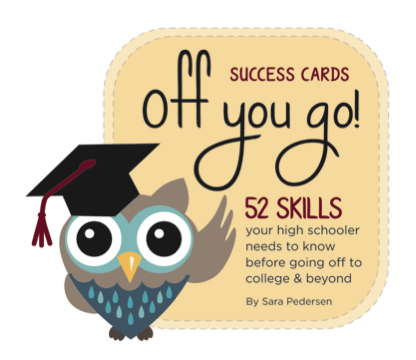 Have a high schooler? Make sure they are ready to leave the nest by learning 52 important life skills, lessons, and conversations before they graduate. Click here to check them out.
If you've ever thought about becoming a professional organizer, why not learn more? Click here to read a list of frequently asked questions.