Off You Go success cards:
52 skills your high schooler needs to know before going off to college & beyond
"Good parents give their children roots and wings: roots to know where home is, and wings to fly off and practice what has been taught them."
Are you the parent or caregiver for a soon-to-be high school graduate? If so, have you prepared your student so she is ready for college and beyond? Likely, there are still some skills that she needs to learn, and these handy cards will help you assess her readiness and teach her how to be an independent and successful student when she leaves your nest.
This colorful, whimsical set of 52 cards allows you to work at your own pace. Some parents like to tackle one task per week for a full year leading up to the start of college. Others prefer to review them over the summer months before leaving for college. Whatever your timing, these handy cards are sure to make your student feel confident about branching off on his own in August. Set your student up for college success!
The cards share tips in these areas:
keeping tidy
identity theft awareness
money management
staying safe
physical health
nutrition
time management
transportation
social skills
social media savvy
Sara Pedersen, a professional organizer and mother of two teenagers, created these college success cards with the hope that the simple—yet necessary—life skills will help make your student's "beyond high school" years a success!
---
order now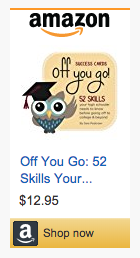 (please note that shipping is only available within the United States)
Cards are 4.25″ x 3.66″, printed on heavy, glossy card stock.
1 deck of off you go cards: $13 plus $3 shipping via USPS First Class Mail
6 decks of off you go cards: $66 ($12 savings!) + $11.00 shipping via USPS Priority
12 decks of off you go cards: $126 ($30 savings!) + $13.50 shipping via USPS Priority


Also available on Amazon (eligible for Prime shipping) by clicking the link at right!
---
card samples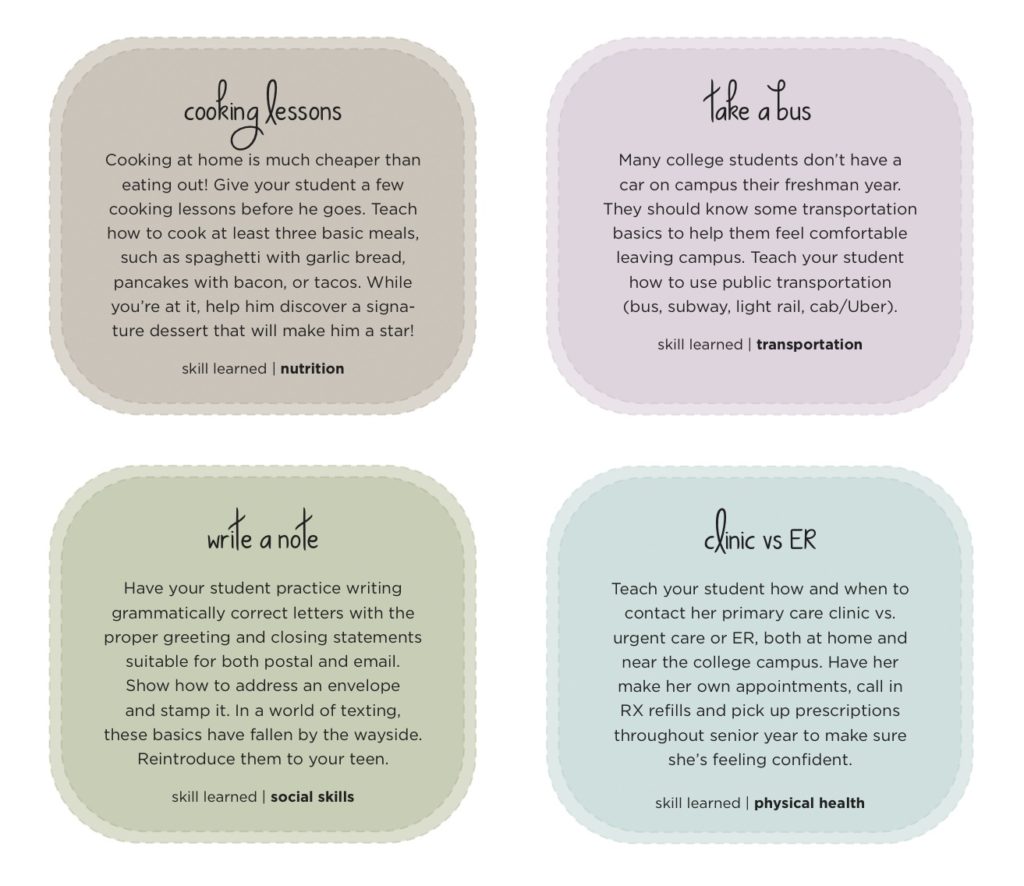 ---
order today!
If you are a parent or caregiver of a high school junior or senior, or a struggling college freshman, these cards will be a valuable resource. They would also make a wonderful gift for a friend who has a soon-to-graduate high school junior or senior or an ambitious student who wants to be prepared for college & beyond.
---
testimonials
Sara Pedersen's "Off You Go" cards are the first third party product endorsement I've made, and eagerly so! The topics are spot on. The guidance is the right blend of wisdom and how-to. The tone is right. The layout is beautiful. I'm thrilled to know Sara's out there doing this important work, and thrilled to partner with her to help more parents succeed at #raisingadults.
— Julie Lythcott-Haims, New York Times bestselling author of How to Raise an Adult
A friend gave our family these cards as a gift we all love them! They are filled with practical tips and advice for helping ensure your teen develops a wide range of life skills necessary when transitioning to living away from home. Each card offers accessible suggestions written in an easy to digest manner- perfect for both parents and teens. And did I mention the packaging? CUTE! Great for gift giving (or just for personal use)…I'm ordering more to have on hand for graduation season.
— Dawn P., North Oaks, MN
I just ordered Off You Go! Success Cards for our favorite family babysitter. She is a senior getting ready to graduate and head off to college. Although she is a very put together young woman, there are some great tips, reminders and safety information for her to get a great head start! I highly recommend this as a gift for a junior or senior in high school. I plan to get a set for my daughters as well!
— Becky Sameck, Absolutely Organized, LLC
Here's another great product from Sara Pedersen to assist you with that goal. These convenient cards help you guide your youth along the path of independence with 52 skills to practice before they leave home. Thoughtful topics range from time management to keeping tidy, social skills to social media savvy, staying safe to money management, physical health to transportation and more. The size is great for carrying in a pocket or purse or as a little reminder on your student's desk or in their backpack. Makes a nice gift for parents and teens!
— Julie L., St Louis Park, MN