seasonal Organizing Tips
The key to getting organized is to identify a problem and find a solution. If at first you don't succeed, try again… If one organizing solution doesn't seem to be working, try another way of looking at the problem. Some easy organizing tips are provided below to get your creative process going. Do you need to organize your garage or closet? What about your home office and those mounds of paperwork on your desk? We can teach you how to organize everything! Call Time to Organize for a one-on-one session in your home or office.
Please bookmark this page and check back frequently for seasonal updates!
All articles written and copyrighted by Sara Pedersen, Time to Organize.
---
let's have a sale
Whether you're planning to move or simply want to cash in on your excess stuff, a garage sale (tag sale, yard sale) can be a profitable way to transfer your goods on to their next destination. However, without proper planning and organization, the day can be a disaster. Here are some tips to hold a spectacular sale:
Start gathering your goods early. Keep a large box in the basement or garage year-round to hold household items you no longer want, need, or love. If you're really industrious, keep some pricing stickers and a pen in the box so you can price as you stow.
Advertise. Make large, colorful signs. Be sure to list the date, time, and place, as well as the types of items you have for sale (kids' clothing and toys, furniture, tools, collectibles, etc.) Place the signs in high-traffic intersections within a few miles of your home. Consider running an ad in your local paper's classified section. Place flyers at local stores where allowed.
Set up the sale. Give yourself at least two days to get the tables set up and items arranged and priced. Make sure everything is clean and attractive. Group similar items together: put stuffed animals in a wagon, arrange household items on tables, place books and tapes/CDs neatly in boxes, display toys at kids' eye level, and hang clothing on racks. Put big-ticket items, like furniture, tools, and larger kids' toys, near the edge of the driveway to attract passersby. 
Be sure to price everything. People are often too shy to ask. Attract people with balloons and banners. And have a "free" box prominently placed. 
Don't forget the little things. Make sure you have enough change, especially ones and fives, and a calculator handy. Have bags and newspaper for packing breakables. Play upbeat music on your boombox. Have lemonade and popcorn for sale to prolong browsing. Hand out free candy to kids if okay with parents.
Count your cash and consider donating. After the sale, donate the leftover items to charity rather than returning them to your house. Many charities will pick up all unsold items.
---
lovely laundry rooms
Do you dread visiting your laundry room? Maybe you'd have more fun sorting your whites if the space was more organized! Here are a few tips for making it a pleasant and inviting atmosphere.
There's no reason a laundry room has to be dark and dingy. Paint the walls a light, happy color. Make sure to use the maximum-allowed bulb wattage in your light fixtures. Add task lighting, as needed, some inexpensive, framed artwork to the walls, and a clock or timer.
If you need more storage space, add a couple of rows of shelving above the washer/dryer. Keep laundry necessities — such as detergent, stain removal pens, fabric softener, an iron, starch, and bleach — within easy reach so you can grab and go. Use baskets and boxes (labeled, of course) to hold not-as-frequently used things such as clothespins, old rags, and your pile of missing-a-mate socks. If you prefer hidden storage, install some inexpensive cabinets (available at any home improvement store) on one wall.
Drying racks are nice if you enjoy line-drying your clothes. There is even a variety of wall-mounted, fold-out options available that will save floor space.
Separate whites from darks. To make laundry day easier, instruct your family to place whites in a white basket or hamper and darks in a colored basket. You'll never have to sort again! If you dry clean frequently, add a separate basket for that, as well.
Place clean, folded laundry in color-coded or labeled laundry baskets. Have family members retrieve their baskets from the laundry room, or deliver them to their rooms, so they can put away their own stuff. Many hands make light work!
---
Celebrate "Buy Nothing Day" This November 
This internationally-recognized holiday (the day after Thanksgiving) is an opportunity to challenge yourself, your family, and your friends to take a day off from shopping. Instead of hitting the malls, spend some time — rather than money — doing things that bring you joy and fulfillment. Here are a few tips to get you started.
Focus energy elsewhere: Does your "to do" list have you constantly running, buying, doing and getting? Try simplifying your life by slowing down to appreciate the good around you. When do you find yourself smiling or happy? Pursue those activities that energize and revitalize you. Starting today, make a few conscious choices to spend your time and energy differently. 
Avoid temptation: Find yourself running to multiple stores each week to get all those great sale items? Make the decision to try a few weeks without reading the Sunday sale ads. Make a running list of the items that you absolutely cannot live without; pledge to purchase only items that are on that list. You'll be amazed at the time and money you save!
Be aware of clutter's curse: When you spend money, you're bound to accumulate clutter. Clutter takes up time, space, energy, and/or money without providing any tangible benefit. Consider the time and effort it takes to care for your belongings. Could you think of better ways to spend your time?
Look deeper: Before you buy, think about what's truly important to you. What brings you joy, satisfaction, and fulfillment? Try to look beyond the initial "thrill of the purchase" and see what provides deeper moments of meaning.
---
Organize Your Kitchen And Bath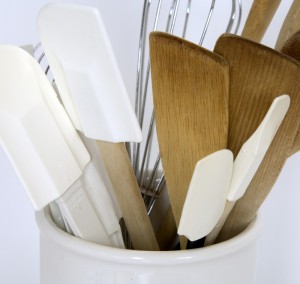 The kitchen is the hub of most homes. It's where people congregate to eat, do projects, share experiences, and relax. Because we spend so much time there, it's important that the kitchen is organized and functional. Likewise, the often-neglected bathroom needs upkeep to make mornings flow smoothly, from shower to shave. Follow these tips to keep the most-used rooms in the home in tip-top shape.
Determine what purpose your kitchen serves. Do you use it for activities other than food preparation, such as completing homework or paying bills? Set up a specific area in the kitchen for those tasks and gather supplies. For example, to set up a bill-paying center, you'll need: checkbook, envelopes, stamps, return address labels, pens, and a place to store bills to be paid.
Clear the clutter! Get rid of the gadgets, small appliances, and mismatched containers you never use. For remaining items, store those frequently used (more than once a week) on the countertop or easy-to-reach upper cupboards. Store seldom-used items (once a month or less) in the lower (harder to reach) cupboards.
Make the most of every inch. Install hooks under cabinets for mugs, pans, and small colanders. Mount can openers, paper-towel holders, and radios there, too. Place a cutting board over one side of the sink. Utilize space inside cabinet doors to hang a corkboard to post phone numbers and to-do lists.
Avoid confusion and foster accountability in the bathroom. Assign each person a color for toothbrushes and towels. Give each person a drawer or plastic storage bin for his/her personal items. Utilize the space under the sink by using stackable storage containers. Toss expired medicines and cosmetics, tattered towels, and duplicate hair styling appliances. Maintain order by scheduling time to organize on a regular basis.
---
Get the Junk Out of the Trunk
In the "old days," people used their cars simply to get from Point A to Point B. But today, vehicles are used for much more than transportation, so it's no wonder they get messy. To get car clutter under control, starts by figuring out how you use your car. Do you drive your kids' soccer carpool? Do you work out of your SUV? Do you run daily errands? Evaluate how you use your car, and it will be easy to make — and keep — it tidy.
Get papers under control by creating an on-the-go filing system. Whether you office out of your car, or just need to have lots of information at your fingertips, create a simple filing system. Your local office supply store has a variety of portable, lidded file boxes to choose from, or use a simple plastic crate. Label hanging file folders with broad categories, and slide important papers in the correct spots. 
If you work from your car, create a portable office. In addition to a portable filing system, include essential office supplies, such as pens, sticky notes, paper, envelopes, and stamps in a neat box.
Take note. Brilliant ideas have a way of sneaking up on us. Make sure you don't forget them by stashing a small hard-cover notebook to catch those moments. Or, to keep your eyes on the road, tote a mini-recorder or call your voice mail and leave reminders there.
Ward off the munchies. Keep healthy and easy-to-eat snacks easily accessible for yourself and hungry kids. Fill a small shoe box with granola bars, small bags of almonds or walnuts, dried fruit, juice boxes, and water.
Run errands with ease. Put a crate in your trunk for clothing that needs to go the the tailor or dry cleaner. You can also add items that need to be returned to stores, library books and movies ready for return, and loaned items that need to find its rightful owners. Take a peek in the box each morning and see what you can get rid of that day.
Consider some specialty car organizers. Discount stores offer a variety of them, such as back-of-the-seat organizers for kids, visor organizers for CDs, collapsible crates for groceries or sports equipment, and much more.
Toss it out and tidy up. Keep a nylon or plastic garbage bag in the car so messes get cleaned up as you go. Take five minutes at the end of each day to empty the bag and tidy up the entire vehicle. This small investment of time will keep it neat and organized. To ensure it stays clean and crumb-free too, plan to vacuum and wipe down or dust the interior every week or two, or invest in occasional visits to your neighborhood car wash.