hands-on professional organizing help in your home
we grant busy families' wishes for time, space and simplicity.
Would you and your family like to:
Get out the door each morning without any hassles
Be able to find what you need, when you need it
Stay on top of paperwork, thanks to a neat & simple system
Purchase less because you can easily see what you already own
Make the most of the storage space in your home
Enjoy a peaceful, clutter-free home environment where you can relax
Have friends drop by anytime because your home looks fabulous all of the time!

If you'd like to stress less and enjoy life more, a Time to Organize professional organizer is ready and waiting to help! We offer professional organizing services for just about any area of the home, big or small, and show busy Twin Cities families how to maximize their time and space. During our hands-on organizing sessions, we offer support so you can purge the things you no longer love or need, give direction when you're floundering, and help you discover that all you have is really enough! We'll help you sort through and correctly store your stuff and teach you to maintain new systems even after we're gone.
Once you're organized, you'll have a positive self-image, feel less stressed, be more productive, have an easier time cleaning the house, save money, and discover more time for yourself. Doesn't that sound nice?
Keep reading to learn more, or if you're ready to get started, click here to schedule your complimentary "get acquainted" phone consult!
we love to help in these areas

kitchen/pantry
closet
kids' room/toy room
bedroom
home office
family room
entryway/mud room/laundry room

 we can also offer expert guidance with

time management
bill/mail maintenance
paper filing systems
whole-house decluttering
desktop decluttering
daily paperwork management
green/eco-friendly organizing advice

 
---
our goal is to help busy twin cities families
when mommy's organized & happy, everyone's happy
Are you a busy mom who attends to everyone but herself? Time to Organize understands and specializes in helping busy moms get back on track! We can evaluate your home set-up and figure out how to make storage more efficient. When you can find exactly what you need at a moment's notice, you'll be less stressed. We'll also help you discover some time for yourself so you can rest and recharge each week. It is possible! Time to Organize also helps kids get organized. We can help get children's rooms neat and tidy, teaching simple organizing tips to make life easier. It's vital to teach children how to get and stay organized. These skills will remain with them for a lifetime. Your kids will find it easier to do their homework, locate their toys and clothes, and be more independent.
declutter, beautify & transform your home
Your home is lovely… it's just buried under a lot of stuff! We can show you how to reduce and remove clutter and then make the most of your spaces big and small. We use the tried-and-true process of sorting, reducing excess, creating "homes," containerizing, and discussing maintenance. We can even recommend local donation resources so you can feel good about saying "bye bye" to the things you no longer love or need. By reducing clutter and maximizing your space, your home will finally feel "just right." 
declutter & downsize prior to a move
Are you planning a move? A great way to start the process is by decluttering, which will help sell your home faster and ensure that you're only moving what you truly love and need into your new home. Whether you have 40-years' worth of accumulation and need a professional organizer by your side throughout the entire process, or you just need a little guidance to get started, we'd love to help. (You might be interested in a packages of 15 or 30 hours!)
unpack & new home set-up services
Do you need a little move-in help? Whether you're new to the Twin Cities or are just moving across town, we can help you set up your new home for maximum efficiency and comfort. Our staff can make quick work of your piles of boxes — we can set up your kitchen, put away clothing, and organize essential spaces so it feels like home. We can work do the entire job ourselves or simply be your helping hands. (Please note, we do not move furniture, and boxes must be ready to unload in the correct room. There is no teaching of organizing skills, decluttering, or coaching during this time.) Choose from either a half-day or whole-day move-in session. See rates here.
organizing the "green" way
We know that Minnesota families love to be "green," so during the organizing process, we can share many earth-friendly eco-organizing tips with our clients. We focus on the 3 Rs of Reduce, Reuse, and Recycle, putting an emphasis on the reduction of paper and clutter entering the home, being able to find what you need so you can save money by buying less, reusing and repurposing what you already own as part of the organizing process, and recycling and donating your cast-offs. We'll work with your household's "personal shade of green," whether you're just getting started or if you'd like to take your green to the next level. (Get your FREE Eco-Friendly, Non-Toxic Cleaning Alternatives tip sheet here!)
---
professional organizing services in minnesota: call today to get started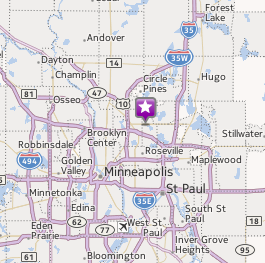 Depending upon the depth of the project, hands-on organization sessions can last a few hours or a few days, or on-going as you need us. We are your professional organizer in Minnesota, serving the Twin Cities metro area (St Paul and Minneapolis including Linden Hills) and surrounding suburbs, including (but not limited to) Shoreview, Arden Hills, Circle Pines, Roseville, North Oaks, Lino Lakes, Blaine, Anoka, Andover, Fridley, Coon Rapids, Maple Grove, Champlain, Osseo, Plymouth, Edina, Richfield, Vadnais Heights, and White Bear Lake. Please call us today at (651) 717-1284 for a free phone consultation, email or click here to have us contact you to discuss your organizing needs!
---
gift certificates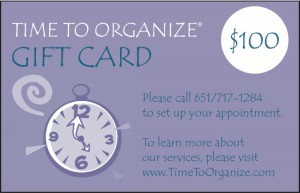 Want to give the gift of organization to your wife, sister, mother, or favorite pal? We do offer gift certificates in any amount. We only ask that you first discuss hiring a professional organizer with the gift recipient to make sure they are open to the idea. This gift will not add clutter to her life. Rather, it will help her reduce clutter in her home and heart, find new ways to maximize space, and share tips and tricks to make the household run more smoothly. Truly a gift that will last a lifetime! To order a gift certificate, please call us today at (651) 717-1284 or email!
---
outside the twin cities? try our virtual organizing!
Click here to learn about our virtual organizing services.
still have questions?
Click here to read questions and answers about hiring a professional organizer.