rates & packages
we grant busy families' wishes for time, space and simplicity.
We offer two ways to purchase our organizing services: single-session and multi-session packages. You do not need to decide right now. At the end of your first session, we can discuss the scope of your project and figure out which option will best meet your needs and budget.
We can work with just about any budget. Rates vary from $55–$70 per hour, depending upon how many hours you purchase and the type of services you require. At your request, we can even add an assistant organizer to larger jobs for super-speedy progress. We would love to work with you at any frequency, whether we meet just once, a few times, or on an on-going maintenance basis. The first step is a free initial phone consultation to get to know each other and answer your questions, so please call us at (651) 717-1284 to get started!
---
Quick-Wave Session

3 hours
(1 three-hour session):
(3 hour minimum)

---

This is a great opportunity for you to work one-on-one with an experienced professional organizer! In three hours, we could complete a small organizing project (such as a closet, bathroom, or entryway) or begin a larger-scale project (such as a kitchen, bedroom, or home office). We begin our session with an in-home assessment and then dive in to make life-changing improvements in the area of your choice. The Quick-Wave session includes sorting, decluttering, storage solutions, and organizing skills education as needed. At the end of this session, you may opt to upgrade to a cost-effective organizing package, schedule another 3-hour Quick-Wave session, or continue on your own with the knowledge you've gained from our time together.

Multi-Wish Package

15 hours
(5 three-hour sessions):
(save $5/hour)

---

Includes an initial phone consultation, in-home assessment and action plan, and hands-on organizing assistance with an experienced pro organizer. You'll also have access to our "little black book" of donation resources, and a pack of our 10-Minute Tidy-Up Tasks Organizing Cards or The Busy Mom's Guide to Getting Organized booklet. In 15 hours, we can tackle one complex area or multiple smaller areas around the home. You'll be amazed at the difference just five sessions can make!*

* To keep the momentum going, we kindly ask that you redeem all the hours in the Multi-Wish Package within three months of purchase.

Dreams Come True

30 hours
(10 three-hour sessions):

(save $10/hour)

---

The best value choice, the Dreams Come True Package will bring calm to all your chaotic spaces. This is a wonderful option if you have multiple areas that need organizing assistance, or if you'd like to meet with us on a weekly or bi-weekly maintenance basis. This package includes everything from the Multi-Wish package at a discounted rate, plus one hour of shopping time to locate any organizing-related items that may be helpful to your unique space challenges. In addition, you'll also receive unlimited phone and email support in between sessions.

* To keep the momentum going, we kindly ask that you redeem all the hours in the Dreams Come True Package within six months of purchase.
---
move-in help
half-day: $240 / whole-day: $440 (one organizer)
*you may add a second organizer for an extra $50 per hour (if available)
Whether you're new to the Twin Cities or are just moving across town, we can help you set up your new home for maximum efficiency and comfort. Our staff can make quick work of your piles of boxes — we can set up your kitchen, put away clothing, and organize essential spaces so it feels like home. We can do the entire job ourselves (owner must be on site throughout the project) or simply be your helping hands as we work alongside you. Please note, we do not move furniture, and boxes must be ready to unload in the correct room. There is no teaching of organizing skills, decluttering/downsizing, or coaching during this time. Choose from either a half-day (4 hours) or whole-day (up to 8 hours) move-in session. Please note that in most cases, just one organizer will be there to help you unpack and set up. (This is not a multi-person, large team approach so it works best for smaller jobs.)
---
reasons to hire time to organize
Experience counts! Sara Pedersen is one of the few veteran professional organizers in the Twin Cities, with over a dozen years of hands-on experience. Her team members also have over a decade of organizing experience!
You are unique! So we offer customized solutions based on your space, lifestyle, and budget. There are no cookie-cutter solutions for our clients.
You'll stay organized! Our goal is to provide lasting results based on teaching you organizing fundamentals that will stay with you for a lifetime.
You'll have fun! We make each organizing session fun, interactive, and rewarding. You'll actually enjoy getting organized.
---
referral rewards
All of our clients are eligible for referral rewards. For each new client you send our way who completes 3+ hours of organizing services, you'll receive $50 off your next 3-hour organizing session. Referrals are the highest compliment you can give us, so please spread the word about Time to Organize throughout the Twin Cities area!
---
gift certificates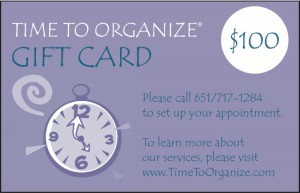 Want to give the gift of organization to your wife, sister, mother, or favorite pal? We do offer gift certificates in any amount. We only ask that you first discuss hiring a professional organizer with the gift recipient to make sure they are open to the idea. This gift will not add clutter to her life. Rather, it will help her reduce clutter in her home and heart, find new ways to maximize space, and share tips and tricks to make the household run more smoothly. Truly a gift that will last a lifetime! To order a gift certificate, please call us today at (651) 717-1284 or email by clicking here!