Quick Tip Postcards for Professional Organizers
cute little editable postcards that pack a big punch
This series of 12 organizing postcards is a fun way to reach out to your clients on a monthly basis. They open with a "teaser" headline to grab the reader. Then, they invite the reader to turn the postcard over to view a few quick tips or reasons to organize a particular space. Each postcard includes a "call to action" to invite your client or prospect to contact you for more info or to book an appointment.
postcard details

These quick tip, 5-1/2 x 4-1/4 color postcards can be sent via postal mail. (Yes, they qualify for the United States "postcard" postage rate.) 

You will receive one Word document that contains all 12 postcards. They are set up on standard 8-1/2 x 11 pages, which have a 4-per-page format for easy printing. (Each page has 4 of the same postcard. You can print and then cut each 8-1/2 x 11 page into 4 postcards.)

You are free to use Microsoft Word or Pages to edit the text to your liking. Add your contact info, logo, and/or photo. Insert a different call to action. Insert your company name. Make it uniquely you!

Or, if you don't want to mess with the personalization, we can do it for you for an additional charge.

Each postcard contains just a handful of quick tips or ideas relating to the following topics:

Create an Errand Basket

Trip Take-Along Tips

Why Professional Organizers Love Their Label Makers

Handy Home Staging Tips

Beautiful Closet Tips

Banish Email Clutter

Safe Keeping of Important Documents

Paper Pointers

Photo Organizing Quick Toss List

Kitchen Meal Prep Tips

Why Organize Your Bedroom?

Green Your Clean

 
 
---
personalizing the postcards
You can edit the postcards in the following ways if you have Microsoft Word (Mac or PC) or Pages for Mac:
Add your return address and/or company logo to the tip side.

Change the "call to action" on the photo side to fit your current promotions or services offered, and add your photo number or preferred contact method.
Or, if you'd rather not make the personalization changes, we can do it for you for an additional charge. (See below for details.)
Then, you choose the number of copies, mailing schedule, paper stock, and printing process. (They are easily duplicated using a standard or color copier, or your own personal printer.)
---
what they look like
Example of Photo Side (They will arrive formatted four per page for easy printing):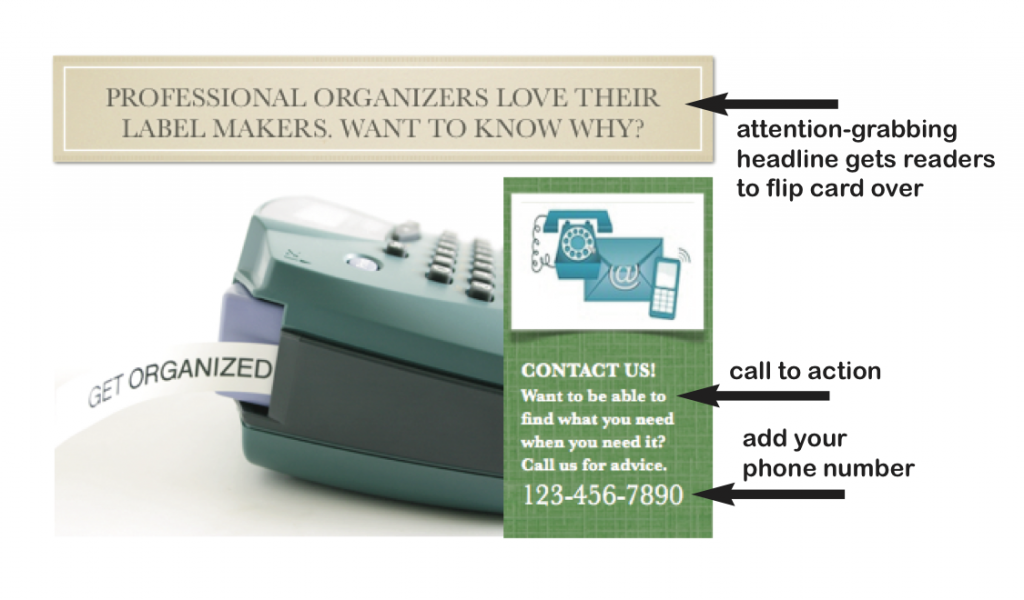 Example of Tip Side: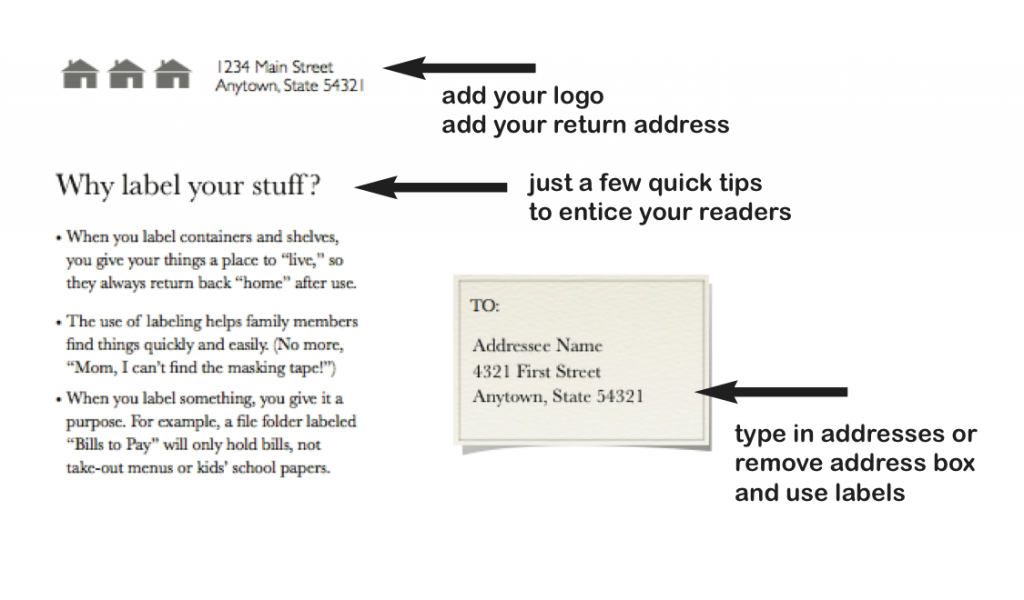 ---
order now!
You may pay using your credit card or Pay Pal by clicking the "Add to Cart" button below.
If you'd like to see a free sample first, just e-mail us here. Please note there are no refunds as this is an electronic product that cannot be physically "returned."
Set of Quick Tip Postcards for Professional Organizers (12): $99
Personalization Add-On: There is an additional charge of $30 if you'd like the set of postcards personalized by Time to Organize. You provide a jpg of your company logo and your return address contact information. Also include the phone number you'd like below the "call to action." All 12 postcards must have the same personalization. This fee does not include any other wording changes or other alterations. To add on personalization services, simply select that on the ordering page from the pull-down menu.
---
POSTCARD LICENSE AGREEMENT SUMMARY
As part of my subscription, I understand I am agreeing to the following:
I understand that all contents of the Postcards are property of Time to Organize and may not be used without their permission. The Time to Organize copyright statement must remain on the Postcards.
I understand that copies of the Postcards may not be distributed to other professional organizers.
I understand that the Postcards may be distributed to my clients so long as no fee is charged.