Blog
All five senses should be activated in your organized bedroom for maximum rest and relaxation. Here are some tips to make sure your space touches on all five… Remember: While you're sleeping, keep the bedroom quiet, cool, and dark!
Sound: Make it quiet. Remove all electronics from the bedroom so you don't hear the beeping, ringing, or buzzing of your cell phone's or tablet's notifications. If you have hardwood floors, a large area rug can help absorb some sounds. Some people benefit from using a white- noise machine.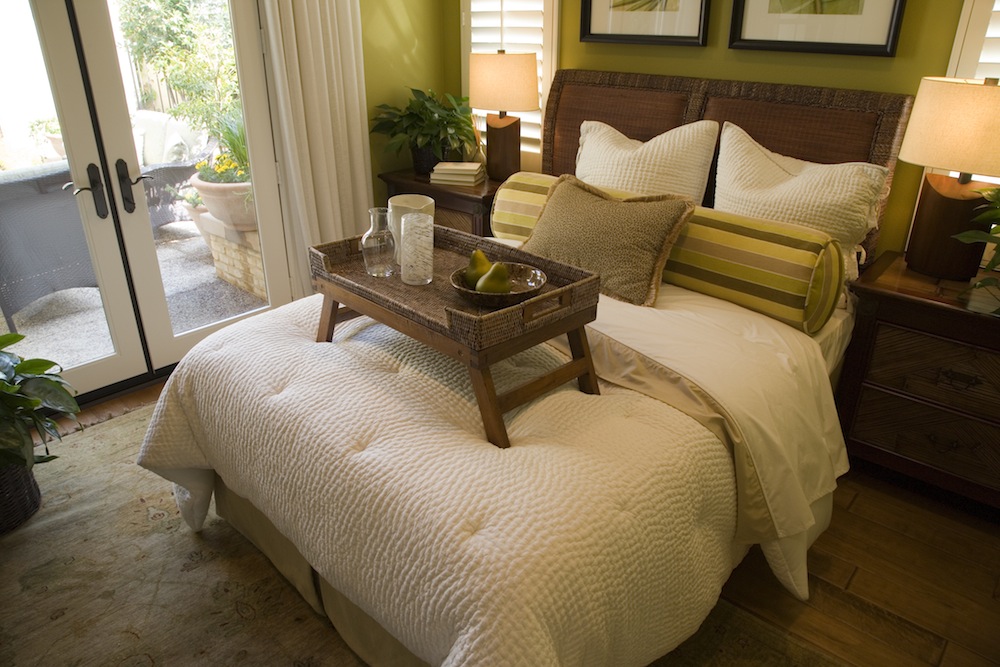 Sight: Lighting makes a difference. Overhead light is great when you need bright light, but for evening relaxing and reading, install a smaller reading lamp on the nightstand or install wall- mounted lamps on the wall behind or beside either side of the bed. Also, the darker the room is while you sleep, the better. If your current window treatments don't block out the moonlight (and the neighbor's glaring porch light or street lighting), invest in some light-blocking curtains, shades, or blinds.
Scent: Your bedroom should have no scent, or a fabulous natural scent. Once the clutter is cleared, give the room a good vacuuming/sweeping, dust surfaces thoroughly, and wash your bedding. Open the windows to get some fresh air circulating. Clean smells great, but if you prefer a light scent, ditch the artificial room fresheners in favor of natural scents. You can provide these with an essential oils diffuser (available everywhere from Kohl's and Macy's to Amazon and Walgreens at a variety of price points.) Be sure to use only 100% natural essential oils in your diffuser. Or simply sprinkle some essential oils on cotton balls and place in non-visible areas.
Touch: Add a variety of tactile sensations to your bedroom. A soft rug on the floor is essential (or at least, next to the bed so your feet are happy to touch the ground when you wake up). Toss a small sheepskin rug (real or fake) over your reading chair. Add a variety of throw pillows to the bed (try velvet, chenille, furry, or anything textured for maximum impact) and/or a soft throw at the foot of the bed. And set the temperature to 60-67 degrees for maximum sleeping comfort.
Taste: Just for fun, keep a little dish of your favorite candy by the bedside. Wouldn't it be lovely to enjoy a delicious dark chocolate just before bed? (Just don't tell your dentist!)
---
Want to learn how to organize your bedroom to perfection? Join the Just Organize Yourself (JOY) Challenge. Open for registration through 4/1. Click here to register!
---